25 Honest Reviews About the Virgin Hair Fertilizer
Most naturals worry about one thing. Hair growth. Any natural want to know if their hair is growing or not. This is totally understandable, who doesn't want to go from a teeny weeny Afro (TWA) to shoulder length natural hair.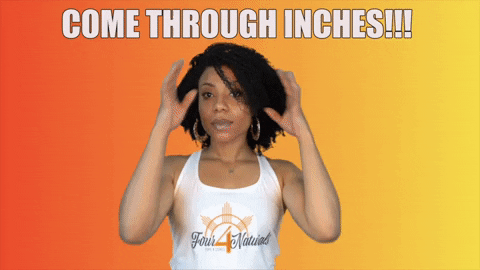 Understanding the natural hair stages of growth is usually one way to grow your hair. Hair fertilizers may be another way. We have noticed that the Virgin Hair Fertilizer has been popular among naturals, especially ones who are dealing with hair loss or transition. So if you are wondering about the benefits of the Virgin Hair Fertilizer and if it actually works for hair growth, we will be reviewing the Virgin Hair Fertilizer for you.
While the author hasn't used this product before we noticed that reviews about the Virgin Hair Fertilizer were scattered over the internet and decided to gather verified honest reviews to answer your questions about this product.
TL;DR:
3 out of 5 people say

the Virgin Hair Fertilizer

works for hair growth.
4 out of 5 people say it doesn't take long to achieve results with

the Virgin Hair Fertilizer

.
5 out of 5 people say

the Virgin Hair Fertilizer

irritates the scalp.
1 out of 5 people says

the Virgin Hair Fertilizer

doesn't lead to hair loss.
4 out of 5 people say

the Virgin Hair Fertilizer

has a strong smell.
About this Product
The Virgin Hair Fertilizer is a scalp moisturizer that is used to encourage hair growth. It is made up of ingredients like African Shea butter, petroleum jelly, peppermint oil, and lanolin.
Product Claim
The Virgin Hair Fertilizer helps to stimulate hair growth by getting the blood flow going. A daily application to the hair and scalp will condition the scalp, get rid of dandruff, and condition broken and dry hair.
How do you use it?
Like any other hair fertilizer, you will have to massage it into your scalp and roots daily. You can also take a small amount of the cream and massage into your scalp with water.
25 Honest Reviews of the Virgin Hair Fertilizer
Here are 25 verified honest reviews of the Virgin Hair Fertilizer we found on the internet.
Does Virgin Hair Fertilizer work for hair growth?
"My hair grew 2 inches in 2 months. It grew in healthier and even thicker than before – and believe me my hair is already super thick. I totally recommend this to everyone and anyone looking to grow thicker, longer stronger hair." - Michelle Ijeoma of MichelleIjeoma.com
"Been using this since 2015. Works wonders. Just don't use it everyday, and put it in another container, as the tube does crack." - Queen Shalae on Amazon
"I've used this product and I am not pleased. It's very heavy on my hair and I haven't seen any growth and I am using the biotin with it also this product doesn't work for me just be sure it works for you." - Quintena Lightfoot on Amazon
"This did not work. I used it on my edges for 2 months. The only change was that it made my bald spot dark as if it was burned. Use with caution because it can have a counteractive effect." -YO on Amazon
"I used the Virgin hair fertilizer because my hair was beginning to thin. I did a chop off and used the product nightly, it works amazing and where it was thinning, new growth grew in that area. I ordered more because it works amazing for me." - Regina Conner on Amazon
Does it take long to achieve results with the Virgin Hair Fertilizer?
"Used it for a week and saw results." - Aubrey J. on Amazon
"I like the fact that you can tell it working. It tingles just like peppermint and I have seen results just within the first 3 times I applied it. And I only applied once a week and did a scalp massage with it." -Brittany on Amazon
"I have noticed improvements with growth in just a week. the product can last a fairly long time." -Kimmycakes on Amazon
"I've been using this product for 2 months and have just a little growth." - Karen Tyson on Amazon
"I've been using it for about 2 weeks, I do see a little hair growth, I like that it feels like it's tingling on my scalp!" - Ronnette on Amazon
Does the Virgin Hair Fertilizer irritate the scalp?
"It started to irritate my scalp and I was itching a lot. Every time I was washing my hair I had to do four applications of shampoo because the build up didn't remove." - KeepinitRealLiz on YouTube
"It tingles the scalp a lot because it has peppermint in it. I don't like to apply it at night because I don't like to sleep with that tingling sensation." - goldmouth100 on YouTube
"Because the product has peppermint and herbal extract it definitely does tingles. It will tingle your scalp especially when you first wash your scalp, it definitely tingles like intensely. It actually stings for a little while also." - Antoinette Lecky on YouTube
"The product is extremely strong so if you have sensitive scalp you have to test it on a certain area first before applying it to your entire head. When I applied this on my scalp after a minute or two I started feeling this intense tingling/heating/cooling sensation which was quite comfortable because I put it everywhere and it is associated with peppermint oil." - Dose of Glamm on YouTube
"The tingly minty menthol sensation more intensely and for a longer period of time when using it on a freshly washed scalp." - Krissy of Krissy90220.com
Will the Virgin Hair Fertilizer lead to hair loss?
"If I could give this ZERO STARS, believe me, I would! My hair just all fell out in clumps as I was washing it. Used this product on and off while it was in a braided pattern for a few weeks. My hair is normally healthy, thick, and long and has been growing without issues. Decided to try this due to all the hype and I left 25% of my hair behind in the shower! I have a gaping bald spot in my crown area and can't even put in my faux locs now due to this devastating development with this awful product!!! DONT DO THIS TO YOURSELF!! If you insist, try a tiny tiny area for at least two weeks before applying this madness. Literally in tears, as I write this. It's just not worth it ladies, please." - Shawnta on Amazon
"This product literally made my hair fall out. I used it for about two weeks until I started noticing my hair was worse than when I started. It killed my hair. Maybe that's just the way MY body and scalp reacted but I did want to share that. I would never purchase this again." -Jen on Amazon
"The bad thing about this product for me was that my hair was thickening and breaking so I had to stop using it." - Magdaline 1Only on YouTube
"After using it for a few weeks I noticed breakage that wasn't happening prior to me using this product. It may work for others but clearly not me." - Sheena on Amazon
"This is the first time I ever do a review on anything. I love this product. After a month of using this product, my hair stopped breaking and my hair grew about 2 inches! I used it as a deep conditioner or Co-wash." - Chatiholli on Amazon
Does the Virgin Hair Fertilizer have a strong smell?
"This product actually works, but the sulfur smell is so bad that I just could not continue to use it." - Dee on Amazon
"I can't get past the smell." - Quinta Francis Perry on Amazon
"It actually grows your hair but the smell is horrible especially after a few days. I had to wash my hair to get rid of the scent because it was too overwhelming after a week or so." -Nicole Edwards on Amazon
"Have purchased a total of 12 tubes. Love the smell. have rated this product previously. Have purchased enough to last for maybe 1 year." - K. Meadows on Amazon
"I've been using this product for about a month, and it does work. My hair feels softer and healthier, and my edges are growing back already. The smell is not great, but I wasn't surprised because the other reviews prepared me for it! I use it about 2 - 3 times per week, and I apply it at night, sparingly. I don't notice the smell in the morning, so I think giving it time to "settle" helps the smell to dissipate." - Yvette on Amazon